Although New York is called "the city that never sleeps," that moniker really belongs to Barcelona, which could just as accurately be labeled, "the city that naps in the afternoon and then parties till sunrise." This Spanish gem has set the gold standard for European nightlife, and offers everything from swinging jazz joints to salsa spots — but what has really made this city the stuff of late-night legend is its outrageous nightclub scene. Locals know that the secret to fully enjoying the club experience is a scheduled afternoon siesta, because clubs in Barcelona don't really get going until 2 or 3 a.m. — and they don't stop until sunrise. Whether you're looking for a performance from a world class DJ, or a night spent getting sweaty dancing under the stars, Barcelona has a limitless number of options for you.
---
La Terrrazza
La Terrrazza is quite literally the "city on a hill" of Barcelona nightclubs. The venue is located in Casa Son Berga, a mountaintop castle that has been converted into one of the city's most stylish dance spots. The Spanish style chateau sits atop Poble Espanyol, a one-of-a-kind artificial village constructed in 1929 to represent the different styles of Spanish architecture. Patrons of La Terrrazza will find the venue by walking up the winding streets of Poble Espanyol, which are dotted with charming bars and cafés. Once inside, guests will discover why the chateau has been dubbed "the Open Air Circus" — La Terrrazza has no roof! Colorful lights and surreal visual projections dazzle club goers who can spend the night dancing under stars and palm trees. The village has a strict sound restriction so the music doesn't get very loud, but this is the perfect venue if you want to skip the usual lines, neon lights and smoky rooms of other Barcelona clubs.
---
Sala Apolo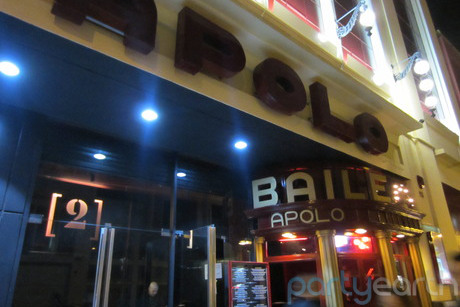 If you're looking to spend a wild night with Barcelona's young rebels, rockers and ravers, then Sala Apolo is the nightclub for you. Monday night starts the week off with an "anti-karaoke" event followed by a Nasty Mondays party that is sure to bring out the heavy metal raver in even the most conservative of club patrons (if those even exist). The contagious energy of Sala Apolo is maintained the other nights of the week as hordes of youthful patrons spend the early morning dancing under neon lights to reggae, rap and rock. An overhead gallery on the second floor offers the perfect vantage point for watching the huge visuals on the cinema-sized screen behind the DJ.
---
Mojito Club
What would a Latin adventure be without some passionate traditional dancing? Mojito Club is dedicated to providing patrons with the full sexy, seductive salsa dancing experience. The cool Latin and Cuban vibes add just the perfect touch of energy to the already passionate crowd of eager dancers who are none too shy about showing off their moves in the mirrored dance hall. Those who don't know the first thing about salsa dancing need not fret, the club offers lessons at 10 p.m. for the mix of couples, groups and individuals who then stay on to try out their new moves. Mojito Club transforms into a regular discotheque around 1 a.m. on the weekends, but the authentic Latin spirit remains, even as a youthful crowd bombards the floor to dance their faces off to some more mainstream jams.
---
Razzmatazz
Disco balls, booming speakers and pulsing lights hanging from a 60-foot ceiling let partygoers know that Razzmatazz is about to give them the full Barcelona clubbing experience. The venue is divided into five unique rooms with each offering different environments and music. A young international crowd is kept feverishly dancing in The Loft by DJs spinning the latest techno, while the industrial-sized Razz Room attracts those wanting to get down to the hottest Top 40 hits. The three other rooms feature various genres of electro as well as ample space to sit down and cool off. When it's not the most happening techno hot spot in town, Razzmatazz also doubles as a concert venue that books some big names from various music genres.
---
Otto Zutz Club
Otto Zutz Club sits on the outskirts of Barcelona but is still able to draw a wild crowd of international clubbers for a night of non-stop dancing. The venue is split into two levels and features an outrageous ceiling of chandeliers and disco balls of various sizes. The dance floor on the first level plays hip-hop and R&B sounds, while the second level is divided into one room for dancing and one for getting your Spice Girl on (think lip syncing, not leopard pants). The third floor is reserved as VIP, but those who spend enough money on alcohol can usually drink their way in by the end of the night. It may be more out of the way than other clubs in Barcelona, but Otto Zutz Club is the perfect spot for those who want crowd-pleasing dance tunes and an old school house party vibe.
I'm Barcelona Vip is your nightlife guide and the biggest pub crawl in Barcelona. We offer you our bracelets which give you free access to the best nightclubs and parties every night! Book it on our web or give us a call: +34628798824. We also can send the bracelets to your location in Barcelona!